NextLove Ireland⭐️Review, Prices, Experiences 2023
How reputable is the dating site NextLove Ireland? What about the costs? Are there any special offers or discounts? What is free with NextLove? What experiences have NextLove users had? What alternatives are there on the market? How efficient is the NextLove app? Find answers to these questions, lots of other interesting information and honest expert evaluation here in the latest NextLove review!

Last update: May 2023
What is NextLove?
NextLove is the world's largest dating site for single parents. The dating site was founded in 2018 in Scandinavia and since then, almost 2,500,000 members have registered worldwide. The motto is:

Find your perfect match on NextLove
20,000 NextLove members are from Ireland.
The NextLove success in numbers
For single parents and divorced people, NextLove is certainly a good choice, because:
every 14 minutes, single parents are finding their match on NextLove, the provider promises.
Is NextLove serious? Fake profiles or real singles?
NextLove itself has enough members and does not need fakes to fill its database.
But are NextLove members protected from other fakes?
Like most other dating providers, NextLove employs various security mechanisms to ensure your safety and discretion.
NextLove members can report suspicious profiles to customer service at any time. There, a review process is opened immediately, and further steps are taken.
NextLove is an appealing dating site for divorced and single parents!
Petra Frömsdorf

Expert since 2011
---
How NextLove.ie works
The registration with NextLove
When registering, you only need to provide a few details:
First name
Date of birth
Location
Then you enter your e-mail address and assign a password. Click on the link that you will then receive by e-mail and you are already registered.
The NextLove login for members
If you have already created an account, you can log in directly on the NextLove website. Click on the login button in the top right corner of the homepage.
The NextLove personality test
There is no real personality test at NextLove.
Before you can go to your profile, you just must indicate whether you are a man or a woman, looking for a man or woman, upload a profile picture and provide the following information about yourself:
Describe yourself...: Height and weight, Hair and body type
After that you will be taken to your profile.
The NextLove principle
NextLove does not follow the matching principle. Here, the single parents go on the search themselves.
Therefore, it is absolutely recommended that you invest some time in completing your dating profile. The more complete your profile is, the better your chances to find your perfect match!
You can add much more information to your profile in the sections.
Appearance
Background and lifestyle
Seeking
What I'm doing with my life (free text field)
Who you are, and what is important to you (free text field)
My parenting style and what I want for my family (free text field)
Favourite books, movies, shows, music and food (free text field)
Five things I would rather not do without (free text field)
What I daydream about (free text field)
On a typical weekend I am (free text field)
The more information you disclose, the better contact suggestions you will receive.
As you can see, you have plenty of space here to express yourself in your own words.
With the help of many search filters, you can narrow down partner suggestions in a meaningful way.
---
Advantages & Disadvantages
a very good dating site for single parents
membership also possible for only 1 month
free app
anonymous and discreet
not suitable for the general public
the number of members in Ireland is still expandable
---
Who is NextLove suitable for?
EliteMeetsBeauty is certainly a dating site that is not necessarily suitable for everyone. We have therefore compiled some helpful info about the members so that you can quickly determine whether you will feel comfortable in the EliteMeetsBeauty community.
What are NextLove members looking for?
The guiding principle of NextLove is: Single Parents Date Better With Other Single Parents. Common understanding – Common Goals & Love for Children. The type of relationship desired goes from "friend" to "chat" to "date". Everything is possible.
Good for your purpose?
Good for your age group?

Life partner

Flirt & Date

Intimate encounters

18-25 years

25-50 years

Over 50 years
Age structure of NextLove members
The NextLove member base is made up of 61% single moms and 39% single dads.
The average NextLove member is approximately 34 years old. All singles 18 years and older are welcome to join NextLove.
NextLove's main clientele (approximately 80%) is in the 25-50 age group.
Educational level of members
The level of education is given less importance on this dating site than on others. The focus here is on friendship and love, especially for children.
---
NextLove Experiences & Rating
| | |
| --- | --- |
| Sufficient members? | |
| Profile quality: | |
| Flirt-Action: | |
| Arrange real dates: | |
| Service: | |
| Fairness: | |
| Customer support: | |
---
NextLove in Practice
Your NextLove profile could look like this: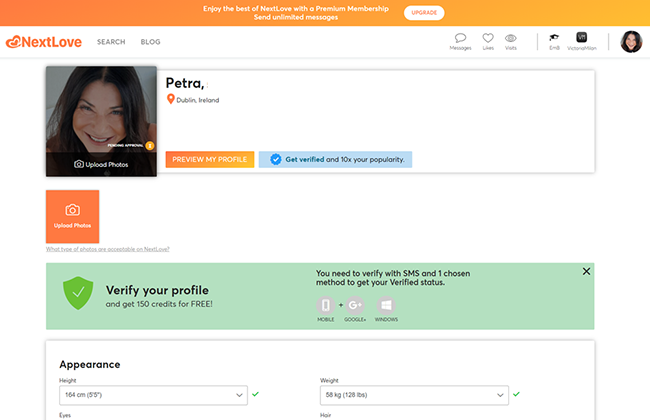 Your NextLove profile picture
We highly recommend uploading multiple photos to NextLove.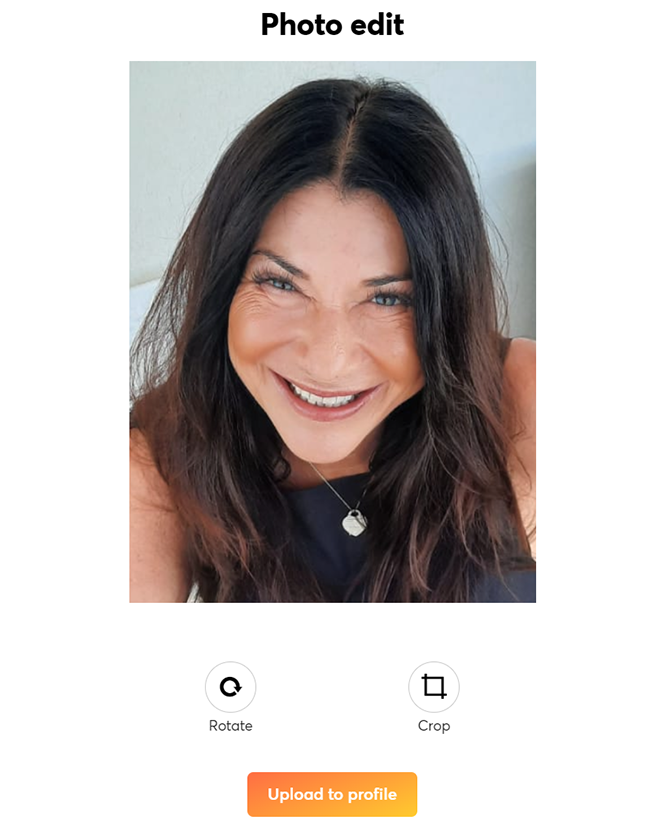 Furthermore, we advise you:
Keep smiling! A smile is sympathetic
Don't forget the background! A neutral background does not reveal so much of your surroundings
Avoid revealing photos
We think it's good that you can decide for yourself whether you want to anonymise your picture first (with a photo filter) or set it so that you are recognisable in it.
How to get in touch
NextLove makes it easy for you to find new friends and/or your perfect match.
If you want to become active yourself, then go to "Search". There you will find a lot of contact suggestions based on the criteria you have entered.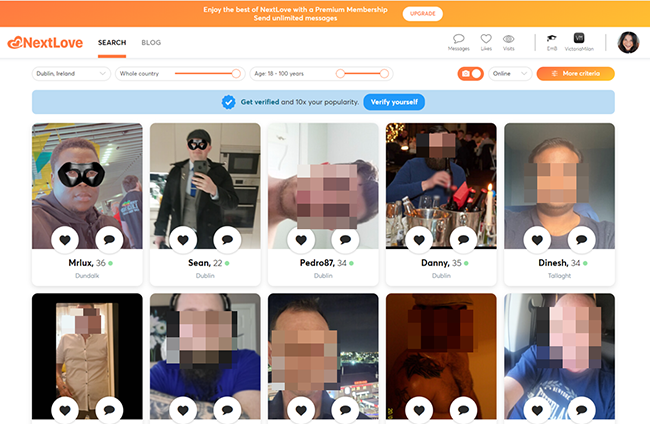 Or look under "Visits" to see who has visited your profile and is probably interested in you.
If a promising contact suggestion catches your eye, then you should not hesitate but go straight to action.
One tip beforehand: Please don't worry too much.
If you are really shy, use the following options that require only one click from you:
Like profile with the "heart" symbol
Send a gift
Go directly to the chat by clicking on the speech bubble (unfortunately only possible for Premium Members)
Add to my favourites
Just write a message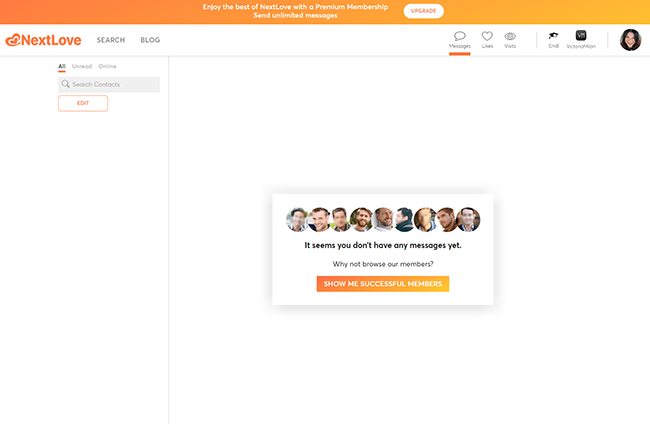 The NextLove app for mobile flirting on the go
Download the NextLove app for free from the Apple App Store or iTunes for iOS or the Google Play Store for Android.
This way you are independent and don't miss any activity on your dating profile while on the go.
The app is very well designed and you can use all the features on your smartphone, for example:
new
online
favourites
messages
Push messages notify you of new visitors and messages. If you find this too much or even unpleasant, you can turn it off in the settings.
Our advice:
Premium memberships should definitely be taken out on the desktop. The prices there are often cheaper than in the app.
The NextLove mobile website
As an alternative to the app, the NextLove mobile website can also be used on the go without any problems. In our eyes, it is just as effective as the app.
You can see all current contact suggestions at a glance and can use all other functions without restriction.
Conclusion: The NextLove website works optimally on the move.
Cool additional functions at NextLove
We think these functions are really good:
Anonymity filter: EliteMeetsBeauty provides its members with a photo filter. This allows you to remain completely incognito.
Message filter: If twinks and favourites are literally "busting your chops", you can set up filters that separate the wheat from the chaff. This way you can find the relationship you want.
Go Invisible: This tool causes only people whose profiles you have already liked to see your profile. You are invisible to all other profiles and can look around at other members at your leisure.
---
NextLove Experiences
Here, we have summarised the user opinions about NextLove.
Experiences Pro NextLove
Most members are satisfied with the NextLove website.
Many users appreciate the fact that it is easy to register with NextLove and that the website is easy to use.
The provider can guarantee the highest level of discretion and anonymity.
NextLove members have praised the fact that you can always get new date suggestions by changing your search criteria.
Fakes or inactive profiles are hardly ever found on the EliteMeetsBeauty site.
Experiences Con NextLove
In fact, we found a few points that could speak against NextLove:
Unfortunately, fakes still turn up on the site from time to time, which customer service has not detected.
The number of members could be somewhat higher in Ireland.
---
What's Free at NextLove?
Create a profile
Personality test
Search on your own
Receive suggestions
View photos (limited)
Send a "hello"
Send mails (limited)
Read mails
---
NextLove Costs & Prices 2023
The following prices are available at NextLove Ireland:
Duration
Cost per month
In total
1 month
Premium
€

39.99

€ 39.99
3 months
Premium
€

29.99

€ 89.97
6 months
Premium
€

24.99

€ 149.94
12 months
Premium
€

19.99

€ 239.88
Attention special offers!
Depending on the region and season, you will be offered discounts between 25% and 33%.
---
NextLove Alternatives
---
NextLove Ireland Test Result
NextLove IE was able to satisfy both testers and members in our test.
NextLove Facts and figures 2023
Active members
20,000
Male to female ratio
39 : 61
Average age
34
Membership level
quite high
Intention
friendship and life partner search
Chances for success
good
Starting price
EUR 19.99
Address
Digisec Media Ltd., Reg. Num. C56612, 33-34 Level 3, Regent Holuse, Bisazza Street, Sliema, Malta SLM1640 Malta
E-mail
support@nextlove.ie
NextLove definitely passed our test. Of course, the site is only suitable for a certain target group. But if you should belong to single parents community, then just visit NextLove Ireland!
---
| | |
| --- | --- |
| | Petra Frömsdorf |
---