40sDating Ireland⭐️Review, Prices, Experiences 2023
How attractive is 40sDating Ireland? How much does 40sDating cost? Are there any special offers and discounts? What is free with 40sDating? What experiences have 40sDating users had? What alternatives are there for singles around 40? You can read even more interesting information, all the answers to these questions and of course our expert evaluation here in the brand-new 40sDating.ie test!

Last update: May 2023
What is 40sDating?
40sDating is a new stroke of genius from the creators of be2. As the name suggests, this new online dating service is aimed specifically at Irish singles around 40 who are looking for a serious partnership. The 40sDating clientele attaches great importance to good manners, is classy and sophisticated.

"Singles that have it all
40sDating is also on the rise in Ireland.
The 40sDating Success in Figures
The 40sDating members have already recognised that 40sDating comes from good stock. The sister sites be2 and Singles50 are trustworthy and renowned dating sites that have built up a good reputation in Ireland in recent years.
That is why 40sDating enters the race with a kind of advance praise and can already boast the following successes now:
Nearly 1 Million members
Balanced ratio of 57% women and 43% men
The 40sDating Principle
The creators of the dating platform 40sDating are among the first to set up a dating site specifically for the 40 plus online dating generation.
The heart of 40sDating.ie is the scientific matching algorithm. It is based on the latest scientific findings about relationships and innovative testing procedures.
The result is that the most perfect potential partners are suggested to the members.
The 40sDating Matching in four Steps:
You complete the scientifically based personality test. Please allow approx. 15 minutes for this. Since only few data can be changed afterwards, we recommend that you complete it at your leisure. Afterwards, you enter general information about your height, hair color, figure, etc. and define your own search criteria.
The actual matching is then done by the 40sDating matching algorithm. It calculates which singles match each other based on the entered data.
The system then serves you the most suitable candidates as partner suggestions.
Ultimately, it is up to you which contact suggestion you find appealing and would like to contact.
Is 40sDating Serious and Safe? Fake Profiles or real Singles?
It is very important to the operators of the online dating platform 40sDating that their members can move safely and anonymously on the dating site. To be able to guarantee this security, they have installed security measures. They have enough data available for the personality test, but they still offer their members as much anonymity as possible.
Even fake profiles hardly stand a chance here, because:
artificial intelligence (AI) and highly efficient filters sort out and delete unwanted profiles and messages.
only paying premium members can communicate at full extent. This keeps many scammers at bay.
40sDating members can and should report suspicious profiles or messages to the customer service.
40sdating is based entirely on the requirements, expectations and wishes of singles plus40!
Petra Frömsdorf

Expert since 2011
---
How 40sDating.ie works
The Registration at 40sDating
Registering with 40sDating.ie is very easy. It only takes place after you have completed the test. You simply enter your e-mail address and password. A few moments later you will receive an e-mail with a confirmation link. When you click on this link, you can access the website.
40sDating Login for Members
If you already have an account, you can log in directly to the website using the login button in the top right corner of the homepage.
Fife Steps to your Dream Partner at 40sDating:
You complete a personality test lasting about 15 minutes.
Then you take care of your profile and complete it with pictures and further information.
With artificial intelligence, 40sDating suggests some suitable partners to you.
You can make contact or be contacted.
You receive new suggestions every day.
The 40sDating Personality Test
Even before you register, you will be guided by the virtual assistant Susan through a rather complex catalogue of questions.
These are about you and your character traits, but also about those of your future partner.
Basic requirements for the ideal partner are also asked, such as age, height, figure, education, smoking habits, drinking habits, etc.
You yourself also provide information about your lifestyle and appearance. This also includes information about your background and your approximate annual income.
Only after you have completed all these questions about yourself and about your ideal partner you get to the registration.
The 40sDating Matching - The Formula for Love
The 40sDating matching algorithm considers all the information you have provided in the test and in your 40sDating profile and compares it with the personality profiles of the potential partners.
The most promising candidates are then presented to you as contact suggestions. You yourself can check the members' profiles to see how well they match you. Similarities and matches are displayed in points or percentages.
---
Advantages & Disadvantages
1st Irish dating agency for people +/- 40
very high success rate
sophisticated clientele with serious intentions
data protection and all profiles hand-checked
discreet & anonymous
contact guarantee
getting to know each other is also possible via video chat
not suitable for singles under 35
bad for singles with a limited budget
you only see your contact suggestions
here you will not find any non-committal flirts
---
Who is 40sDating suitable for?
40sDating is a new fresh dating site in Ireland that specifically addresses the target group of singles around 40. Nevertheless, the provider is not the right choice for everyone. We have therefore compiled some helpful information about the members. So, you should be able to tell quickly whether you will feel comfortable in the 40sDating community.
What are 40sDating Singles Looking for?
40sDating.ie is clearly aimed at singles plus minus 40 who are seriously looking for a life partner. Those who just want to flirt a bit shy away from the costs and don't bother to go through the personality test and set up a nice profile.
This means that the singles you meet on 40sDating are genuinely looking for love - you rarely meet singles with dubious intentions here.
Some singles use 40sDating as a flirt marketplace anyway. Our tip to the flirty: Better be honest and look for flirts on a casual dating site! It wouldn't be fair to hurt someone. Of course, if both want the same thing, everything is perfect!
Good for your purpose?
Good for your age group?

Life partner

Flirt & Date

Intimate encounters

18-25 years

25-50 years

Over 50 years
Age Structure of the Members
As with all Irish dating sites, single women are in the majority on 40sDating.ie. This plus of women increases with age.
The 40sDating average age for women is 45, for men 48. All singles over the age of 30 are welcome at 40sDating.
The main clientele of 40sDating (about 80%) is in the age group between 38 and 55.
Educational Level of the Members
Compared to most other dating agencies, the education level of 40sDating.ie members is significantly higher. Almost 50% are academics.
---
40sDating Experiences & Rating
| | |
| --- | --- |
| Sufficient members? | |
| Profile quality: | |
| Flirt-Action: | |
| Arrange real dates: | |
| Service: | |
| Fairness: | |
| Customer support: | |
---
40sDating in Practice
Let's assume you have already registered with 40sDating.ie. Then you will find the following on your screen:
Your 40sDating Profile
Singles interested in you can see the following data in your profile:
General informations about yourself (date of birth, eduction, etc.)
General informations about your looks and appearance (body height, eye color, hair color, body shape, etc.).
Your views on the topics: Food, holidays, sports, leisure activities, music, films & TV shows, reading
Your views and values: Your lifestyle, what is important to you in life, your goals.
Your personal message, which you can formulate personally.
Your photos
If you really want to fill out the profile completely, you must invest some time. Please do not forget that every question you answer brings you a little closer to your dream partner.
Private remains private
40sDating members only see your photo unblurred if you explicitly want them to (by sharing it with all or only certain members).
Your last name and contact details are not visible.
Sensitive data that you have entered in the personality test is included in the matching, but otherwise remains strictly private.
Put at least one photo online at 40sDating!
The other singles can only see the picture if they are also Premium members and you put a tick under your profile photo (All women/men can see my profile photo). Only 3% of 40sDating members respond to profiles without a picture. According to the operator, you will receive up to ten times more personal messages with a photo.
It took us about 20 minutes to prepare our profile. That is certainly a lot of time. But it is worth investing this time to find a truly compatible partner.
A nice gadget: creative people can "repaint" their profile and choose a background image from the templates.
How to Get in Touch
You have received an interesting partner suggestion and would like to get in touch with the person. Some singles write a wonderful little message off the cuff. However, many find it difficult to start the first contact with a message they have written themselves.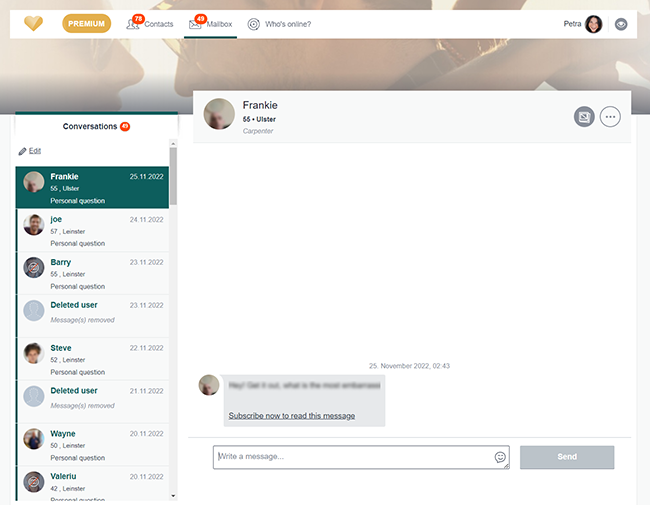 For these single women and men, the makers of 40sDating provide the following tools:
Send a hello
I like her/his profile
Answer an icebreaker question
These functions are simple, but nevertheless effective. They often result in a nice conversation and maybe even more.
You will see that once contact has been made, free messages will come naturally.
Experience shows that if you like each other, a phone call or video date will quickly follow.
A personal meeting actually will take place only if both really like each other.
First of all: Not only premium members can get in touch with other members. Basic members can like other profiles, send them a "hello" or answer an icebreaker question from the member. However, the possibilities for non-paying customers do not go any further.
40sDating Video Date
... is also a must on the dating platform 40sDating. Many 40sDating members really appreciate this way of "getting to know each other". So, you can find out before a personal meeting whether you are visually attracted to each other. Gestures and facial expressions play a big role in love.
The advantage of a video date is that no one must reveal a telephone number or even a full name. You activate your camera and microphone and can directly start a virtual date with your contact.
The 40sDating.ie App for Mobile Flirting
The online dating website 40sDating was conceived in responsive design. It works great on desktop, tablet and smartphone. It is attractively designed and easy to handle. So you can use all functions on the go.
A 40sDating-App is not yet available.
Additional Features at 40sDating.ie
We liked these functions:
Is it Love at first Like? Every day, three profiles are sent to you in Tinder style. You either like it or you don't.
---
40sDating Experiences
40sDating is a very new dating site and has only been present on the dating market since 2022. That's why we can't yet draw on as many testimonials as with the "old established" providers. We had a lot of fun testing 40sDating. And most of the members are also enthusiastic about the 1st dating site for singles around 40. The competition in this age segment is big, but 40sDating does not have to hide at all, but keeps up very well.
Like all dating sites of the be2 family, 40sDating works with the latest technology and can be used on all devices.
Experiences pro 40sDating
40sDating is an absolutely reputable dating site.
The website is well received by members and functions flawlessly.
0sDating also offers a contact guarantee similar to competing providers.
There are hardly any fakes or inactive profiles on the 40sDating site.
40sDating members are looking for a long-term relationship.
Experiences con 40sDating
In fact, we found a few points that could speak against 40sDating:
40sDating has not been on the market that long.
Some members don't like the fact that 40sDating customer service is only available by email.
It is precisely those around the age of 40 who are being courted by many dating sites.
---
What's Free at 40sDating?
Create a profile
Personality test
Search on your own
Receive suggestions
View photos (limited)
Send a "hello"
Send mails (limited)
Read mails
---
40sDating Costs & Prices 2023
These are the current prices for 40sDating premium memberships in Ireland (standard rates):
Duration
Cost per month
In total
1 month
Premium
€

49.99

€ 49.99
3 months
Premium
€

49.99

€ 149.97
6 months
Premium
€

39.99

€ 239.94
You think 40sDating subscriptions are quite expensive? That's right, but it's precisely the higher price level that has a positive effect on your chances of success:
Singles who are only looking for quick dates and flirts are put off by the high entrance fee.
The level of 40sDating members is above average.
Singles who are willing to pay the considerable membership fee are 90% seriously looking for the big love.
That is why 40sDating convinces with high placement rates.
You won't find a better offer: the price for a 1-month premium membership at 40sDating is a really great deal!
---
40sDating Alternatives
---
40sDating Test Result
The dating site 40sDating is the only platform that specifically addresses the 40+ generation. Nevertheless, the competition in the +/- 40 age group is very big. Many members of competing providers such as be2, EliteSingles, etc. are around 40.
40sDating Facts and figures 2023
Active members
50,000
Male to female reatio
47 : 53
Average age
46
Membership level
high
Intention
life partner search
Chances for success
good
Starting price
EUR 39.99
Address
be2 S.à.r.l., 13 rue du Commerce, L1351-Luxemburg
E-mail
customerservice@40sdating.ie
40sDating IE did very well in our test. We were consistently convinced by the platform 40sDating!
---
| | |
| --- | --- |
| | Petra Frömsdorf |
---