Match Ireland⭐️Review, Prices, Experiences 2023
How well does Match Ireland do? What are the Match costs? Are there any special offers or discounts? What features are free with Match? How efficient is the Match dating app? How good or bad are the experiences of Match members? Which alternatives offer more service and better prices? You can find all the answers, exciting new information and our expert evaluation here in the up-to-the-minute Match.ie review!

Last update: May 2023
What is Match.com?
Match was founded in 1995 in the USA and is one of the oldest providers in online dating. Through constant mergers with other providers, match.com has become the largest dating family in the world with almost 22 million members.
Currently, Match has around 50,000 active members in Ireland.
Its success must have something to do with:

Start Something Real
Match is something for the average wallet. That's why you'll find a wide audience from all professions.
Match success in numbers
You probably know someone who is active on Match or has already found a partner there. The large number of members and the diverse flirting possibilities result in a remarkable success rate:
59% of members have dates
About 25% fall in love on Match
The Match matching principle
...does not exist in the classical sense. Match is rather built for singles to actively search on this dating site with its many "advertisements".
At Match you will meet very active and flirtatious singles. From casual contacts to friendships to relationships, everything is possible here.
You must find your dream partner yourself somehow... Some find this annoying and prefer to choose a target-oriented dating agency. Others appreciate exactly this tingling sensation and the uncertainty of what will become of the next date.
Match offers its members different approaches and methods to find the perfect partner:
Match users constantly receive new profile suggestions. The system selects these suggestions for you based on the data from your profile and the answers to the questions during registration. Therefore, the suggested candidates already match you very well in terms of personal interests and wishes.
Classic partner search: You can use search filters to narrow down partner suggestions. In the settings, enter your desired age, place of residence and other details that are important to you.
Offline dating: Meet potential partners at an event organized by Match. The events take place in larger cities on all kinds of topics.
Is Match serious? Fake profiles or real singles?
There are very few fakes at Match because the provider has taken effective measures:
Every new photo and every profile change is checked within 15 minutes. This is followed by approval or blocking.
A photo AI is used that automatically compares profile photos with pictures from photo databases or from celebrities.
There is a team that preventively detects scammers and romance scammers and removes their profiles.
Our advice: Despite the comprehensive security measures, you should be careful. Report profiles that seem strange to you. This is how you help to uncover fraudsters and keep them out of the dating site.
Match.com is the most famous dating site worldwide.
Petra Frömsdorf

Expert since 2011
---
How Match.com.ie works
Four steps to your dream partner on Match:
You register with Match and complete your profile.
You answer questions about yourself and your dream partner.
You receive the first contact suggestions.
You can get in touch with other singles or be contacted.
Registering with Match
Registering with ie.Match.com is very simple. You go through a few short questions about yourself and enter your email address and password.
During the registration process, the Match coach will already ask you a few questions. The answers will later be incorporated into your profile.
You can prepare yourself for these questions:
Personal data (e.g. age, place of residence)
Wishes about your future partner
The Match login for members
If you already have an account, you can sign up directly on the Match website by clicking the login button in the top right corner of the homepage.
The Match personality test
Match does not rely on the matching principle like other dating agencies. Therefore, there is no actual personality test at Match.
You will only be asked some questions about yourself during the registration process. These include facts such as height, which language you speak, ethnicity, education level, if you smoke, if you have children, and if you want children one day.
The most important thing is that you then complete your profile. This is the only way you will receive contact suggestions that are a reasonable match for you.
---
Advantages & Disadvantages
Simple and easy to use portal
Few fakes
Nice functions for flirting
Relatively cheap
You have to find the right partner yourself
Few singles over 50 years
Men receive relatively few replies
---
Who is Match.com suitable for?
Match is for all users who simply want to try out sophisticated online dating. The focus is clearly on flirting. If you really want to fall in love or are looking for a non-binding date, you have to find out for yourself...
Good for your purpose?
Good for your age group?

Life partner

Flirt & Date

Intimate encounters

18-25 years

25-50 years

Over 50 years
In contrast to other well-known dating sites, Match does not focus on matchmaking with partner suggestions. What is needed here is your own initiative.
You get access to a huge database of profiles that you can browse for hours.
With Match, you can see the photos of all the other singles directly and clearly. While this makes the selection large, it does not necessarily make the search for your dream partner any easier
Match is right for you if you
are a man under 55 years of age.
are a woman under 50.
are pretty good at flirting.
want a large selection of profiles.
like to search for singles yourself.
Match is not suitable for you if you
are not very good at flirting..
feel overwhelmed by a mass of profiles.
don't have the time or inclination to search for suitable singles yourself.
are single-mindedly looking for your life partner.
Age structure of members
GBasically, Match shows a broad and relatively even distribution of members across all age groups up to the mid-50s.
The average age for men is 38, for women just under 40. All singles over the age of 18 are welcome on this platform.
With 61%, there is a surplus of men on Match. The older the members, the more women are active on the dating site.
Our tip:
For singles over 50, we recommend the sister website Ourtime. This successful dating platform has been specially developed for dating over 50.
Educational level of the members
At Match you will find singles from all professions and walks of life. There really is something for everyone here.
The big difference to the many free dating sites, however, is the higher level among the users.
The reason for this is that the Match editors expect a certain standard in the profiles. In addition, Match charges a fee as soon as you want to actively participate in flirting.
---
Match.com Experiences & Rating
| | |
| --- | --- |
| Sufficient members? | |
| Profile quality: | |
| Flirt-Action: | |
| Arrange real dates: | |
| Service: | |
| Fairness: | |
| Customer support: | |
---
Match.com in Practice
Your profile on Match might look like this: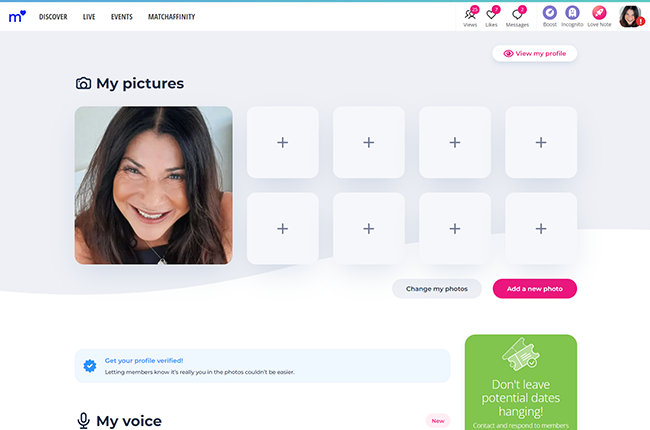 Your Match profile
Most Match singles have invested time and effort into their profile, providing detailed information and uploading beautiful photos. You can also use the many options to catch the eye of other Match users.
The following options are available for you to personalize your profile:
My pictures - your profile photo and up to 8 additional photos
My voice - Describe your personality using your voice
My personal ad - tell a little about yourself
My answers - complete the following sentences: The things I always carre with me are..., If I had an extra hour a day..., My dream holiday is..., My superpower..., The show or book that would make me cancel my dinner plans..., My work is...
I am - Main information such as height, education, smoking habits, children, want to have children. Other information such as marital status, gender identity, I think marriage is…, eyes, weight, hair colour, hair length, nationality, I live…, religion, occupation, sports, practicing religion, diet, personality, romance, pets, My best feature, interests, entertainment, my favourite films, my taste in music, my style, my little imperfection.
I'm looking for - this is what your dream partner should look like: In addition to the information you have already provided in the registration process regarding height, age, etc., you have a few options here to narrow down your search a bit. You can specify here what is important to you: Is it looks such as hair colour or eyes, or character traits? Perhaps you are also looking for someone who shares your hobbies and interests? Then you can specify that right here.
Nothing works at Match without a photo!
If you don't upload a photo, you won't be able to access your profile. It's best to find a picture in advance and upload it to your PC. Choose a picture that best expresses your personality and lifestyle!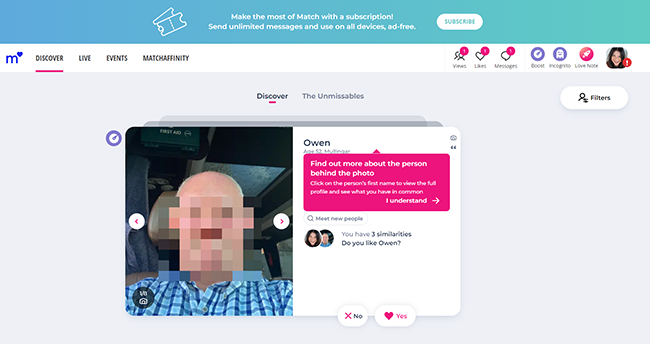 We love the Match search technology: The Match system thinks for itself. It registers and remembers which profiles you find good and suggests corresponding members to you. In addition, you can search for members whose search criteria you match and who also meet your requirements.
How to get in touch
At Match, you have a number of ways to contact other members:
Discover: You will be presented with "the 100 profiles of the day", which you can like (click on the heart) or dislike (click on the x).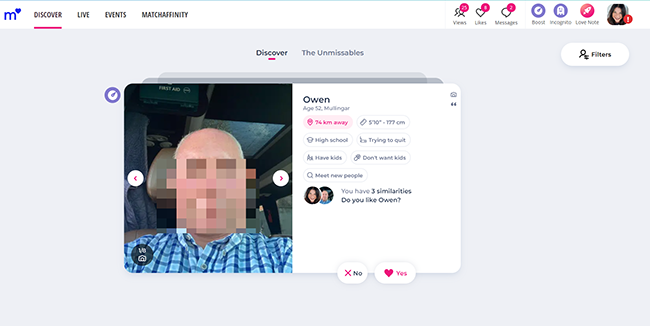 The Unmissables: Match presents you with a selection of singles who match your search criteria. Simply like the profile or click it away.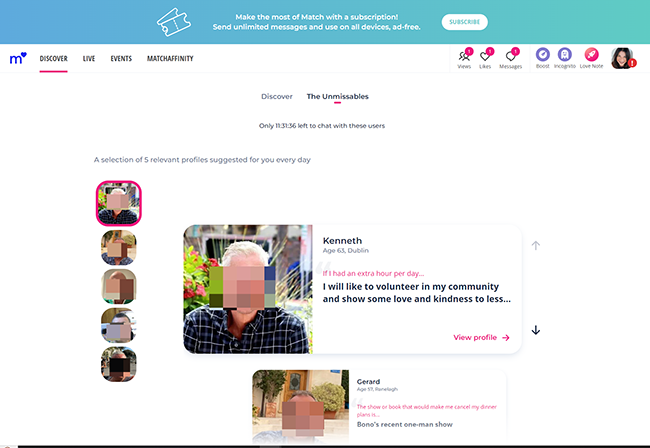 Events: Take part in online activities such as live coaching.
Live: In various chat rooms you get in touch with other Match members.
Views: If you like somebody who has visited your profile, simply send a message.
Likes: Here you can see who has given you a Like. The easiest way to do this is to write to someone who obviously likes you.
Messages: Here you will find messages from Match members who are obviously interested in you. Write back!
Our tip for successful contact:
Keep your message short! Neither SHE nor HE find long emails appealing. To encourage the other person to reply, go into the other person's special characteristics and ask a question.
Match voice and video call
Similar to other dating platforms, the video date function is used diligently by match users.
It is especially helpful for shy singles to first get an impression of the other person.
If this is too fast for you, you can also arrange a voice call and talk to your flirt on the phone.
You can activate the function to start a voice call or a video in your profile.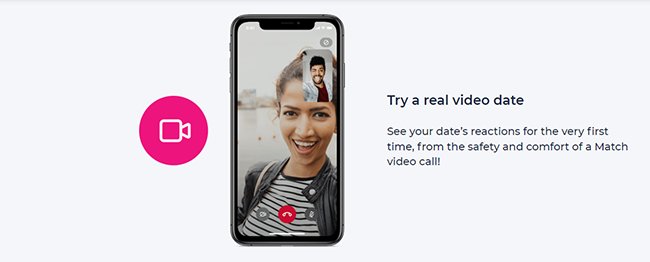 Good to know: ie.Match.com attaches the greatest importance to discretion! None of your personal data, such as your telephone number, will be passed on to third parties.
The Match app for mobile flirting on the go
With the Match dating app, you can be flexible in your partner search and never miss any interesting contacts.
Simply download the Match app free of charge from the Apple App Store for iPhone or the Google Play Store for Android.
These functions are available:
Discover interest singles
read and answer messages
find new contacts
Our tip:
It's best to register on your desktop at Match and fill out your profile there. This makes the registration process much clearer. Then download the app onto your smartphone. Then flirting via the app is really fun! No matter whether you are on the road or at home, you are right in the middle of the dating action.
Cool additional functions with Match
We find these functions very interesting:
Photo Boosts: This feature pushes your profile to the front of other singles. This means that you will be displayed much more frequently to Match users who matchyou. This gives you more attention and contact opportunities. We have listed the costs below.
Love Notes: Your messages get bumped to the top.
Incognito Mode: If the hustle and bustle on Match becomes too much for you, you can make yourself invisible with this function. You can visit profiles without the person noticing and you will not appear in the search results. Unfortunately, incognito mode is also subject to a charge.
Match Charter of commitment
Match puts a lot of emphasis on making you feel comfortable and enjoy the best dating experience possible.
The golden rule at Match is: only say, show or do online what you would say, show or do in real life.
There are also the following four Match behavioural principles:
Be respectful
Be genuine
Stay safe
Don't compromise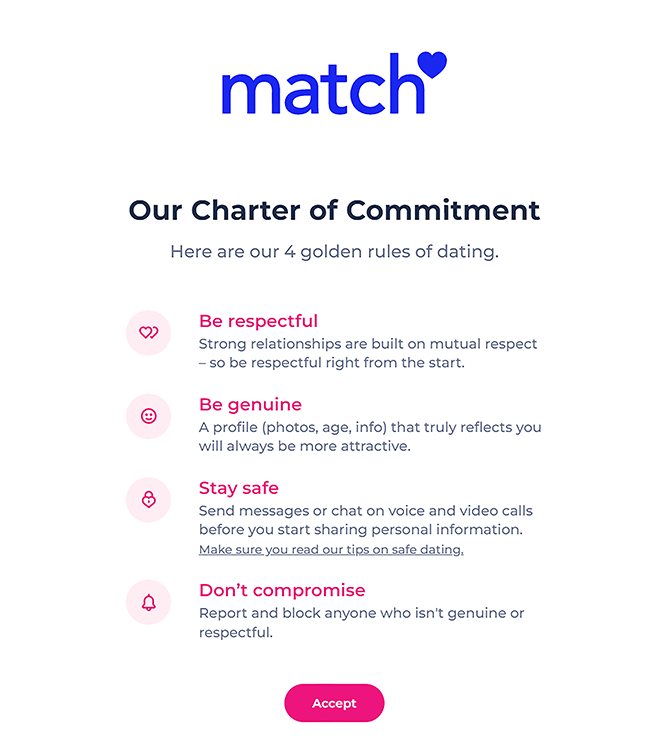 ---
Match Experiences
Match has been successful in the dating market for many years and can proudly look back on a number of awards such as test wins and seals.
Users also appreciate Match for its sophisticated technology and friendly customer service.
Experiences Pro Match
Match is one of the most popular dating sites.
50,000 members in Ireland is a proud number. The many Irish Match users like the fact that the members are also very active.
Registration is easy and the search for a partner can go ahead quickly and spontaneously.
Match offers many great functions for starting contacts or flirting.
Match doesn't have to hide behind the new, hip dating apps.
Experiences Con Match
Match is only partly fun in the free version.
The principle of supply and demand prevails at Match. This means that almost half of the members unfortunately don't make any contacts there.
For a while there were some scammers on Match. Fortunately, this is no longer the case. With its anti-fake team, the provider has made sure that flirting on Match is safe again.
---
What's Free at Match.com?
Create a profile
Personality test
Search on your own
Receive suggestions
View photos
Send a "hello" (limited)
Send mails (limited)
Read mails (limited)
---
Match.com Costs & Prices 2023
The following prices are available at Match:
Duration
Cost per month
In total
1 month

€

39.99

€ 39.99
3 month

€

28.99

€ 86.97
6 month

€

19.99

€ 119.94
Savings-tip:
First just book a trial period of 1 month. If you are happy, then take out a longer duration which will be cheaper per month.
Attention undecided singles!
With the 1-month subscription, you can try Match for a month without having to make a long-term commitment.
Boosts:
With the boosts, you ensure that your profile is seen by more members. This way you get 2x more activity on your profile, i.e. more views, likes and messages. Boosts costs: 1 Boost active immediately EUR 1,99 - 5 Boosts to use whenever you want EUR 9,95 - 10 Boosts to use whenever you want EUR 14,90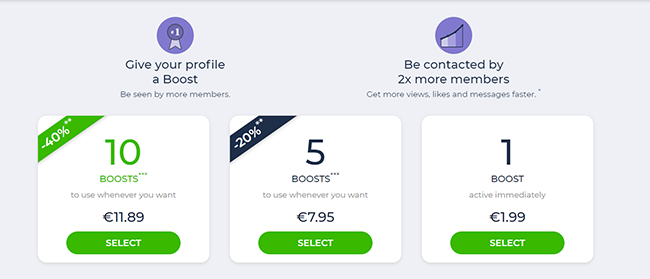 Love note:
With a Love note, your message is displayed as a priority. This guarantees that you will not be overlooked and increases your chances of receiving a reply. Love notes costs: 5 Love notes EUR 8,99 - 15 Love notes EUR 22,99 - 30 Love notes EUR 34,99

Incognito mode:
Be invisible! View profiles without being seen yourself. Incognito mode costs: 24 hours EUR 1,99 - 1 month EUR 9,99
---
Match.com Alternatives
---
Match Test Result
Match is the mother of all dating sites and an indispensable part of the dating world. The provider was able to score points in the test with a large number of members and with a wide member spectrum.
It is only important to set the right search criteria right from the start, otherwise it can happen that you lose the thread in the mass of many different singles.
Match Facts and figures 2023
Active members
50,000
Male to female ratio
61 : 39
Average age
39
Membership level
average
Intention
flirt and life partner search
Chances for success
average
Starting price
EUR 19.99
Address
Match.com LLC 8750 N Central Expy, Suite 1400 Dallas TX 75231, United States
E-mail
customercare@support.match.com
Great features and good search functions help you find exactly what you are looking for: A new life partner or a flirt at Match Ireland!
---
| | |
| --- | --- |
| | Petra Frömsdorf |
---