eharmony Ireland⭐️Review, Prices, Experiences 2023
Is eharmony Ireland worth it? What does eharmony cost? Are there special eharmony deals like promo codes or coupons? What is free with the dating site eharmony? Does the eharmony app work properly? How good is the customer service? Is eharmony suitable for senior dating? You can read all the answers, lots of other interesting information and the rating here in the current eharmony review!

Last update: May 2023
What is eharmony.co.uk?
eharmony is one of the most famous dating sites worldwide. Anyone looking for a serious relationship isn't going to pass by the giants! The motto

Every 14 minutes, someone finds love on eharmony
applies here.
And yes, the choice of members is truly great. There are around 33 million active members worldwide, 60,000 alone from Ireland. As you can see….your chances of finding a serious relationship are quite high.
Since the year 2000, more than 2 million couples have already found each other on eharmony.
The eharmony succes in numbers
Surely you also know a couple that has found each other at eharmony. No wonder, because the success statistics speak for themselves:
40% of Premium Members find a partner.
Over 60% of eharmony couples start a joint household in the first year of their relationship.
Almost a third of all couples walk down the aisle in the first year.
74% of eharmony couples claim to be in a happy relationship.
Why? Because eharmony has developed the best working matchmaking algorithm in the dating industry.
It ensures that you only receive well-matched proposals with a high degree of similarity in terms of life planning, educational background and 25 other criteria.
The eharmony principle
The heart of Eharmony.ie is the matching algorithm. This is based on the latest scientific findings about relationships and innovative testing procedures.
The result is that the sophisticated system suggests potential partners who are as perfect as possible.
The eharmony matching in three steps:
You answer the approx. 80 questions in the eharmony Compatibility Quiz. This takes about 20 minutes. Your answers provide information about what kind of personality you have and what you expect from love and relationships. eharmony uses this as a basis to introduce you to singles who tick similarly to you. This similarity is expressed in matching pointss.
The actual match making is done by the famous eharmony algorithm. Based on the information provided by the individual singles, it calculates who has a chance of being happy with each other in the long term. Similarities are rated highly, but small differences also add spice.
You complete your profile: You edit your own details and set search criteria, e.g. how far away your potential partner may live, what age and height suits you.
In this way, eharmony filters out for you from the thousands of singles those who could fit you according to the "hard specifications" (place of residence, age, height) and the character traits.
You can imagine the profiles suggested by eharmony like VIP ticket holders at a rock concert. Of the 50,000 people in the stadium, only a hand-picked selection get the chance to enter your VIP lounge.
Remember not to always stick to rigid specifications. The computer system has no tolerance for hard targets. If you enter 45 as the maximum age, you will not be shown anyone who has just turned 46. It would be a shame if your Perfect Match fell through the cracks for this reason. Therefore: Be flexible!
Is eharmony reputable? Fake profiles or real singles?
Eharmony is definitely trustworthy. In our opinion, this provider has no reason to work with decoys or fake profiles. Because
the many advertisements on all channels attract enough new singles every dayn.
eharmony has a very good reputation, which the company does not want to jeopardize.
Eharmony community pledge
Behind this term is simply a code of conduct designed to make every eharmony member feel safe, welcome and included.
Let's Be Real: Your bio, age and photos should accurately capture who you really are.
Let's Be Kind: eharmony has zero tolerance for hate, harassment and bigotry. Please treat everyone with respect.
Let's Be Safe: Be sure to report suspicious behavior immediately, never send money to matches, and don't share your personal info until you're ready.
Eharmony's action against fake profiles
Eharmony relies on the following security measures:
Current technologies are used to fulfil data protection compliance.
Highest IT security through firewalls, clear legal structure and encryption through the SSL security standard as well as the involvement of external security experts to regularly examine the website.
Internal security check during registration as well as continuous checking of conspicuous profiles to deter scammer.
Encrypted communication between members and also between members and customer servicee.
A Trust and Safety Team is always issuing notices or making enquiries to memberse.
A Trust and Safety Team is always issuing notices or making enquiries to members.
eHarmony.co.uk is trying to copy the success rate from eHarmony in USA, where it is responsible for nearly 5% of all new U.S. marriages.
Petra Frömsdorf

Expert since 2011
---
How eharmony.co.uk.ie works
Registration with eharmony
Registering with eharmony is very easy. You simply enter your e-mail address and password. Then you complete the compatibility quiz.
Once you have answered all the questions, you will receive an email with a confirmation link. When you click on this link, you can access the website.
eharmony login for members
If you already have an account, you can log in directly on the website. Simply click on the login button in the top right-hand corner of the homepage.
Five steps to your dream partner at eharmoy:
You complete a 20-minute compatibility quiz.
You describe yourself and your dream partner in your eharmony profile.
Parship uses artificial intelligence to suggest around 100 well-matched partners.
You can make contact or be contacted.
New matches are suggested to you every day.
eharmony Compatibility Quiz
In our eyes, the eharmonyPARSHIP Compatibility Quiz clearly stands out from all the other personality tests we have encountered on our journey through the endless onward of online dating sites.
The quiz is certainly an extensive questionnaire, but it is by no means lengthy. The 80 or so questions are designed to find out exactly who you are and who you are looking for. And this without you knowing in advance what the questions are aiming at. In this way, 24 different dimensions of your relationship pattern are analyzed in detail.
Of course, the classic questions of a personality test are not missing. You will be asked about your interests, hobbies, sports, and preferred music genres, about your smoking and drinking habits. You state where you would like to live and what kind of holiday you prefer.
Then you are confronted with questions designed to analyze your personality and relationship profile.
So that you already have a little idea of what might be in store for you, you can find some sample questions here:
If you read a particularly interesting book or article, would you want your partner to read it as well? Possible answers: 1. Yes, I like sharing my interests with my partner. 2. It doesn't matter if they read it or not.
What affect does lovesickness have on your appetite? Possible answers: 1. I don't enjoy food as much. 2. I eat more than usual. 3. Neither.
Do you sleep with the window open? Possible answers: 1. Ja, unbedingt. 2. Yes, always. 3. Whenever possible. 3. No, I don't find it very cosy. 4. I don't mind either way.
Do you easily get excited about things? Possible answers: 1. Not really. 2. Yes, often.
Regardless of current trends, is the style and colour of your clothes mostly... Possible answers: 1. Restrained and muted. 2. Bold and expressive.
Do you believe most peoble are good people? Possible answers: 1. Absolutely. 2. I want to. 3. Sometimes it's hard to believe. 4. It depends on the context.
The 11 questions on two different pictures each are interesting. Two pictures are presented and you can choose one of them. For example: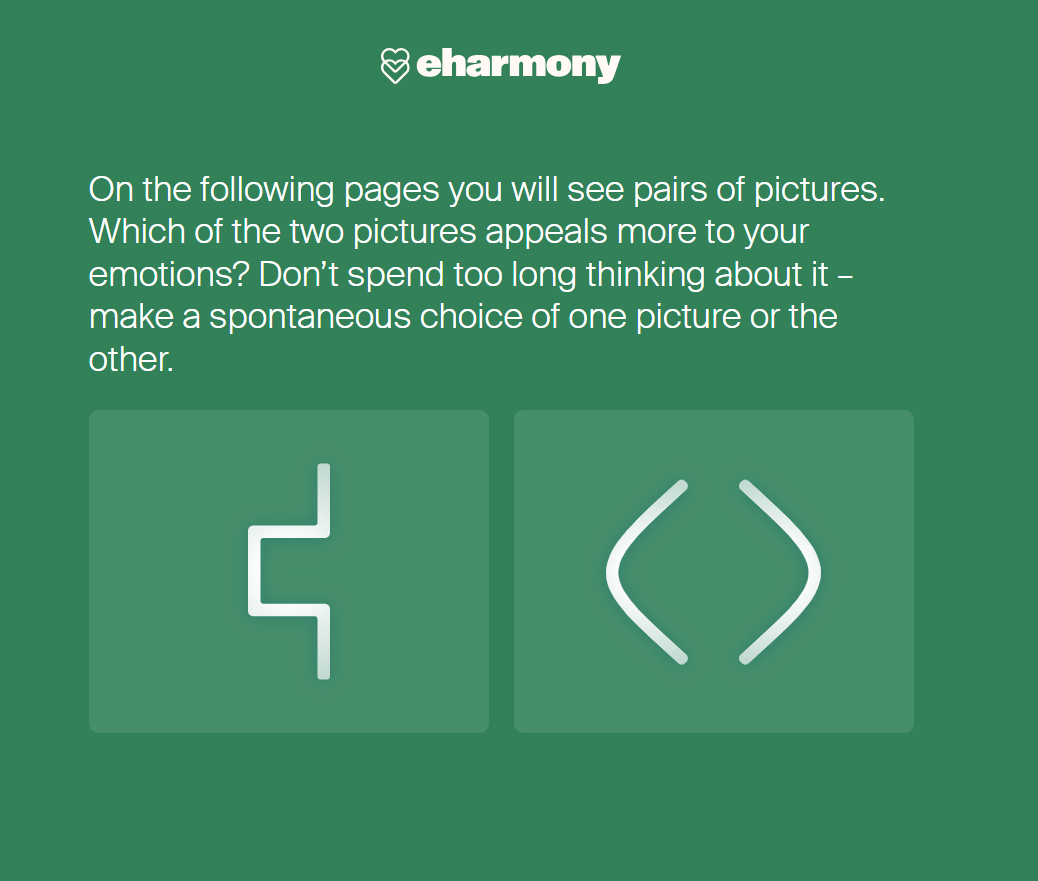 This selection should be made intuitively from the gut. It is good that one does not know what these questions are aiming at. That's why it's easy to make a decision spontaneously.
As you can see, this quiz is quite different from the tests of the competition. And perhaps this is where the great success of the eharmony principle lies.
You should take your time for the eharmony Compatibility Quiz and answer the questions honestly and spontaneously. According to eharmony, there is no right or wrong.
If you approach the test with this attitude, you will present your true personality. And that way the system can generate truly suitable partner suggestions that have a great chance of success..
The test result
Now that you've taken the eharmony Compatibility Quiz, you're probably already looking forward to the evaluation of your partner personality.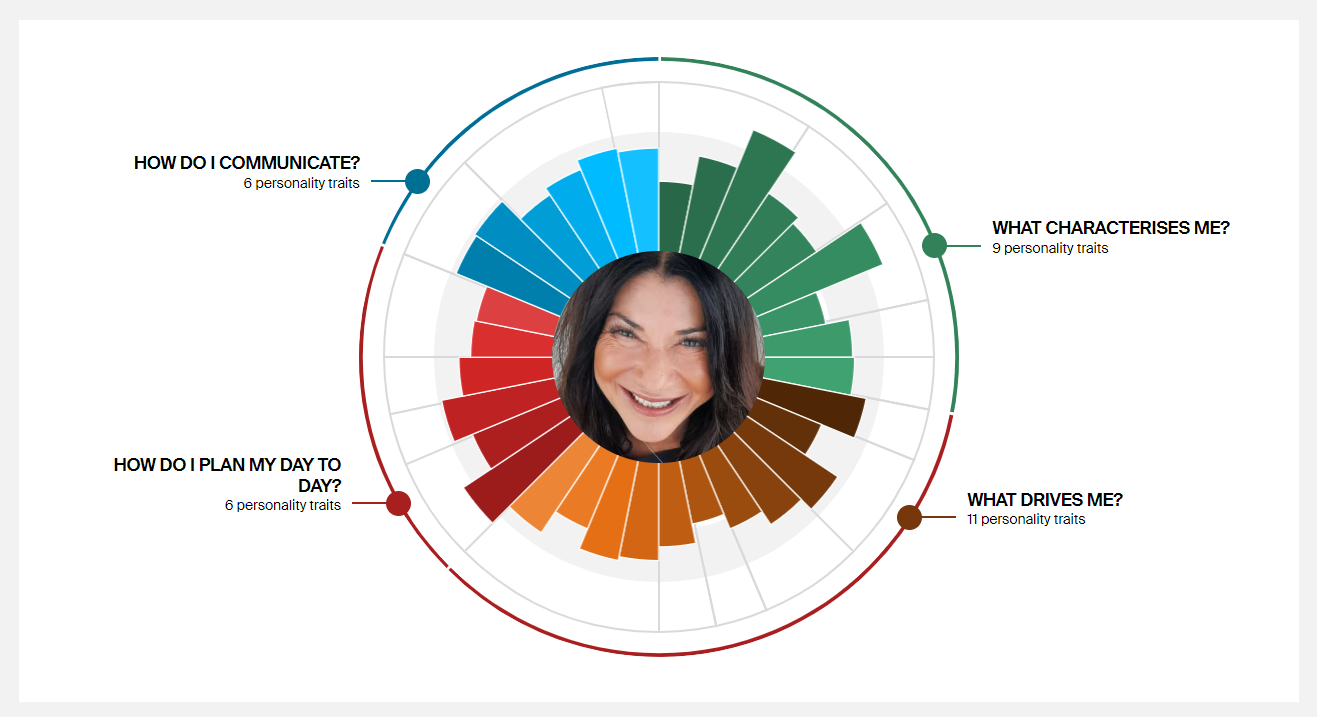 Many eharmony singles find it exciting and helpful to get an accurate analysis of your personality profile. This will tell you:
How do I communicate?
What characterizes me?
How do I plan my day to day?
What drives me?
The detailed evaluation of your Compatibility Test in your eharmony member account shows you:
Fundamentals of your personality
How do you see the world? Instinct, feelings, intellect
Your balance of passion and conscience: Inner energy, self-control
Your couple dynamic: Logical traits, emotional traits
The degree of closeness that is right for you: Desire for relational closeness
How empathetic are you?
How you behave in a relationship
How do you see the world? Positive attitude
How do you process experiences? Introversion, Extraversion
How do you approach people? Desire for social interaction, inhibition towards social interaction
Compromise and distinct boundaries in your partnership: Willingness to adapt
How practical are you? Pragmatism
How you deal with frustration: Generosity, tendency to compensate, tendency to withdraw, assertiveness
Your everyday life
Your behaviour is as individualized as this: Conventionality, unconventionality
Do you value established routines or do you prefer to improvise? Desire for structure
Your own space: Desire for domesticity
Your need to be active and doing nothing at all: Need to be adventurous, need to be peaceful
Style of communication
This section is indeed very scientific. If you don't want to deal with terms like "nurturing parent influence", it's best to scroll all the way down. There you will find an analysis of your communication style and suggestions for improvement that you can take to heart.
eharmony matching - the formula for love
The eharmony matching algorithm takes into account 136 factors that are rated to different degrees and compares the personality profiles according to these rules.
Each potential partner receives a Compatibility Score ranging from 60 to 140. The higher the score, the greater the likelihood that two people will be a good match.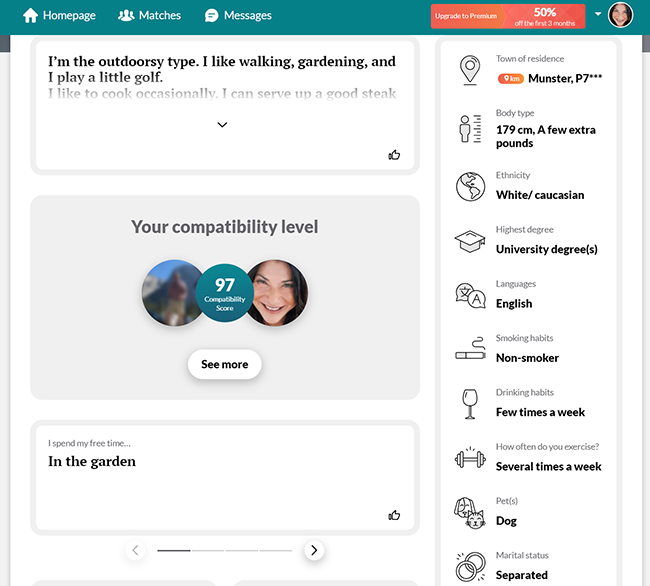 As soon as you have passed the Compatibility Quiz and activated your profile by clicking on the confirmation link, you will find hundreds of selected contact suggestions under the item "Matches".
As a Premium Member, you can set the criteria according to which these many suggestions are sorted:
Registration date
Compatibility score
Last online
Distance
All basic members are presented with matches by distance, i.e. next first and so on.
It is now important that you take a little more time and look after your profile.
In order for the eharmony algorithm to work properly, it needs to be fed with as much information as possible.
To do this, go to your profile and click on "Matches". You are directly in "My search criteria" and can set the following criteria that you want in a partner:
Age (from ... to...)
Height (from ... to...)
Smoking (Non-smoker, Occasional smoker, Smoker)
Has children (1. No, matches shouldn't have children. 2. I don't mind as long as the children don't live in the household. 3. Yes, matches sould have children. 4. I dont mind.)
Wish for children (1. Yes, I want children. 2. No, I don't want any more children. 3. No preference.)
Religion - only changeable for Premium Members
Ethnicity - only changeable for Premium Members
Income - only changeable for Premium Members
Education - only changeable for Premium Members
Where do I want to search? The default setting is "Ireland". However, you can also search for a partner in many other countries. Simply select. To activate the "search distance", you must ... correct! Be a Premium Member.
By the way, the algorithm awards the highest eharmony Compatibility Score for this::
The most important specifications such as age, height and smoking habits are met.
You also basically meet the most important specifications of the proposed single.
The personality traits match.
There are further matches in hobbies, occupation, income etc.
---
Advantages & Disadvantages
Most popular Irish internet dating site
Highest success rate
Sophisticated audience with serious intentions
Data protection and all profiles hand-checked
Discreet & anonymous
Contact guarantee
Getting to know each other is also possible via video chat
Not so good for men under 25
You only see your contact suggestions.
You won't find many non-committal flirts here.
---
Who is eharmony.co.uk suitable for?
eharmony has been the TOP dating portal in Ireland for years. Nevertheless, the provider is not the right choice for everyone. We have therefore compiled some helpful information about the members. So you should be able to tell pretty quickly whether you will feel comfortable in the eharmony community.
What are eharmony singles looking for?
eharmony.co.uk is clearly aimed at singles who are serious about finding a life partner. If you just want to flirt a bit, you won't pay the entry fee or torture yourself through the long Compatibility Quiz.
This means that the singles you meet at eharmony are pre-sorted, so to speak - singles with dubious intentions are very few and far between:
Some men nevertheless use eharmony as a flirt marketplace. They pretend to be looking for the great love, but their actual intentions are more of a "physical nature". After a short adventure, they quickly disappear again. Our tip to the men's world: It's better to be honest and look for flirts on a flirt site! It wouldn't be fair to hurt someone. Of course, if both want the same thing, everything is perfectt!
Good for your purpose?
Good for your age group?

Life partner

Flirt & Date

Intimate encounters

18-25 years

25-50 years

Over 50 years
Age structure of the members
So far, the eharmony average age for women and men ist 40. All singles over the age of 18 are welcome to join eharmony.
The gender ratio is very balanced with 51% men and 49% women.
The main clientele of eharmony (about 80%) is in the age group between 26 and 55.
There are relatively few men under 25 on eharmony. Rather, there are young women who like experienced men.
For older singles, it looks quite pleasing, because members in their 50s or 60s are numerous.
Educational level of members
Compared to most other dating agencies, the educational level of eharmony members is slightly higher.50% have an academic degree and belong to the following professional groups:
Scientists and engineers
Self-employed and managers
Doctors and teachers
Bankers
---
eharmony.co.uk Experiences & Rating
| | |
| --- | --- |
| Sufficient members? | |
| Profile quality: | |
| Flirt-Action: | |
| Arrange real dates: | |
| Service: | |
| Fairness: | |
| Customer support: | |
---
eharmony.co.uk in Practice
Let's assume you have already registered with eharmony. Then you will find the following on your screen: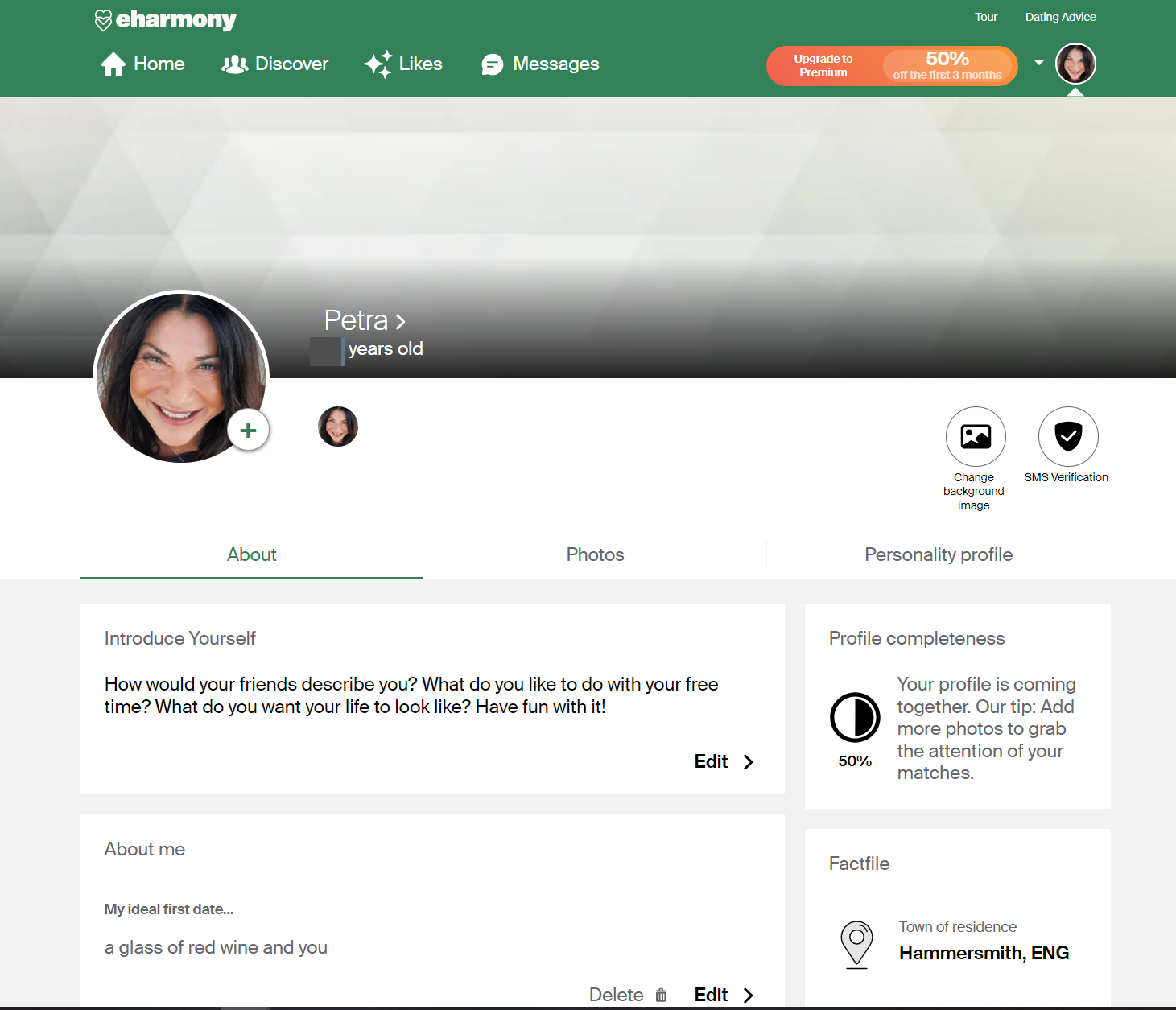 Your eharmony profile
eharmony singles who are interested in you can find the following data in your profile:
Your first name and your age
"About me": You have enough space to write your life motto or simply a few characteristic sentences about yourself.
Profile questions: You have already answered questions in the Compatibility Quiz such as "My ideal first date...". You can edit these questions or select and answer more questions from the more than 20 questions in the drop-down menu.
Lifestyle consisting of: Interests and hobbies, sports, food and dring, travelling, character and traits
Your factfile: Town of residence, occupation, body type, ehtnicity, highest degree, university, languages, smoking habits, drinking habits, how often do you exercise?, pets, marital status, children, wish for children, religion, political view
Entertainment: Favourite TV shows & movies, music, favourite books
Your photos
Your personality profile
Behind the Matches tab on your profile are the numerous partner suggestions that the system has sent you.
The most important information about the suggested persons is noted on the pictures: name, age, profession, place of residence and compatibility score.
If you are interested, simply click on a match and see how well you and your match would fit together in detail.
Here is an example: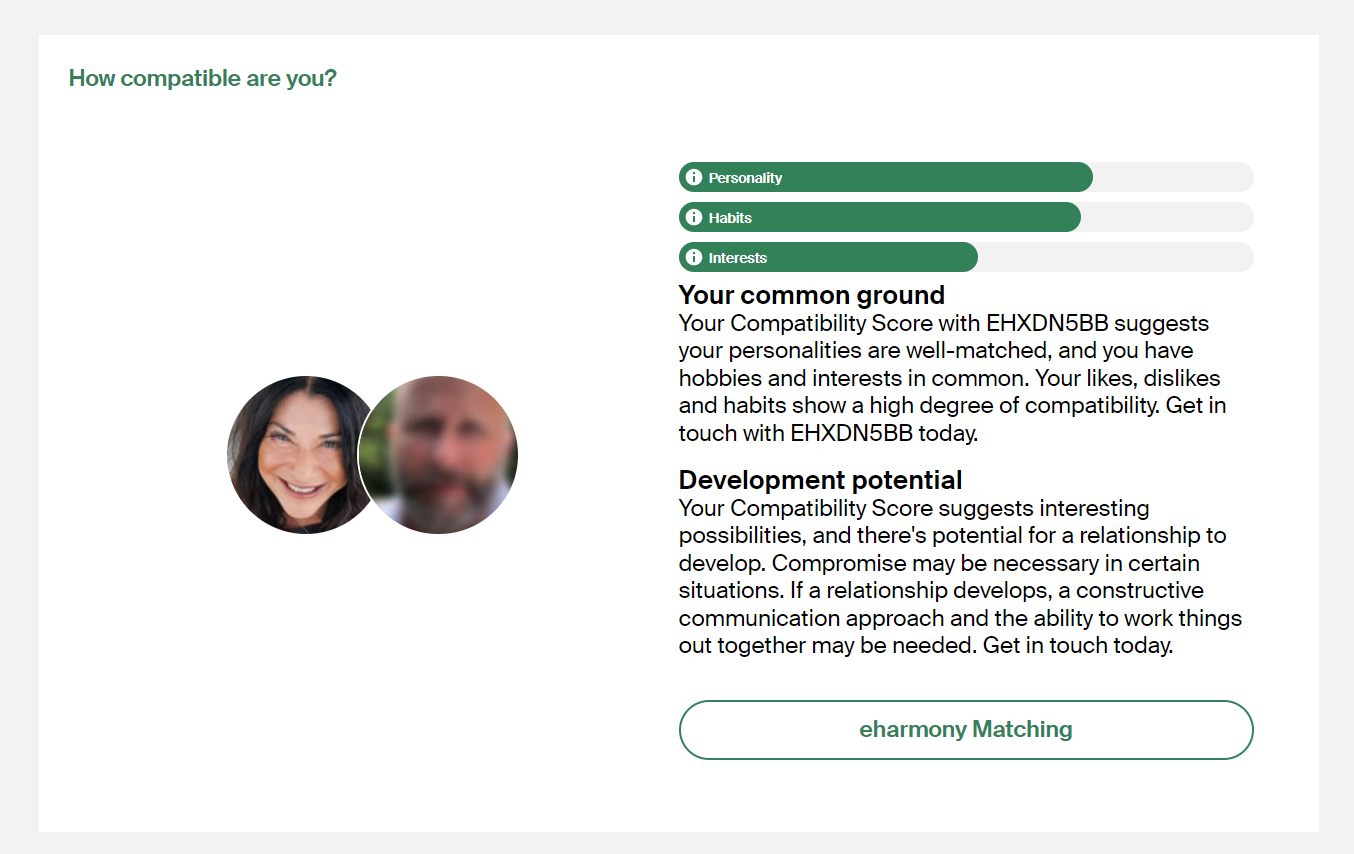 Private remains private:
Normal eharmony members will only see your photo blurred. Only Premium Members to whom you are suggested can see your photo clearly.
Your last name and contact details are not visible.
Sensitive data that you have provided in the Compatibility Quiz will flow into the matching, but otherwise remain strictly private.
Be sure to post a photo online with eharmony! The other singles can only see it when you share it with your favourites. But they can already see that you have a photo. This way you will get up to four times more responses.
How to get in touch
The first step is often the hardest. And as we all know, there is no second chance for a first impression.
he makers of eharmony know this too and have therefore come up with some clever features to help their protégés on the dating trail.
If you don't want to send a self-worded message directly, the following options are available:
Send a smile: Just click on the smilie!
Icebreaker: Click on the "Popsicle" icon (by the way, we have confused this icon with a pin needle first). You and your match each take a photo quiz and then each get the score.
Send a compliment: Simply click on the "thumbs up" icon on the profile photon!
You will see that once contact has been made, free messages will come naturally.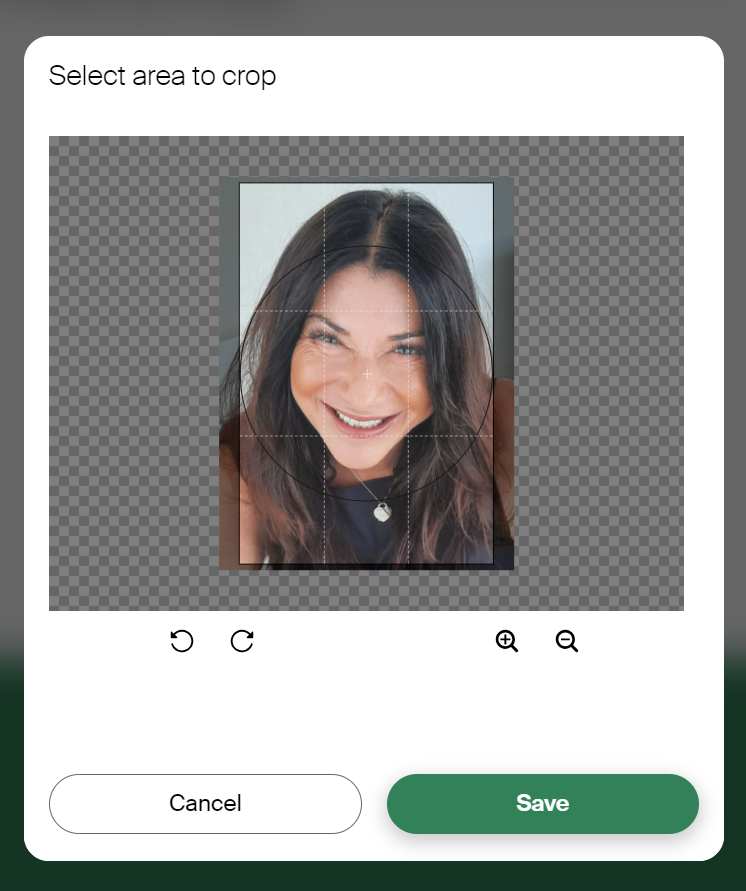 Experience shows that if you like each other, a phone call or video date can be arranged quickly.
A personal meeting actually only takes place if both really like each other.
eharmony video date
During the first Corona wave in spring 2020, social life came to a complete standstill. eharmony also had to come up with something to replace the personal contact that was not possible at that moment.
That was the birth of the eharmony video date.
In the meantime, the video date function has become an integral part of the eharmony dating routine.
Good to know: With eharmony Video Date you do not have to disclose your telephone number. The Video Date button is available directly on your profile. After activating the camera and microphone, you can experience a virtual date with your contact if they are online at the same time.
Why not arrange a relaxed video date before you venture out on a real date?
The eharmony app for mobile flirting on the go
Another highlight of the provider is the excellently made eharmony App. The app is available for Apple as well as for Android.
All eharmony members who opt for a premium membership should download the free dating app from the Apple App Store or iTunes for iOS or the Google Play Store for Android.
This way you are independent and do not miss any activities on your dating profile even when you are on the go.
On your smartphone you can
Receive, read and reply to messages
view matches and profiles
manage your own profile and upload photos
see who is online
see who has visited your profile
manage contacts
Our advice: First register with eharmony on your desktop and fill out the questionnaire there at your leisure. Then download the app to your smartphone. Only then will the eharmony app really be fun! Whether you're on the couch or on the go, you can take part in the dating action directly.
eharmony dating advice
In this guidebook you will find interesting information on topics such as :
Finding yourself
Dating
Getting to know
Attraction
Commitment
Relationship issues
Breaking up
Additional functions at eharmony
We like these functions particularly:
If desired, you can also get matches from many other countries.
If you don't actually get a single contact - which is very unlikely - your membership will be extended free of charge.
If you want EVEN more contact suggestions
Our advice: If you slightly change your search criteria, new matches will be sent to you immediately.
Our advice: Log in frequently. The more active you are, the more often you will be suggested to other singles and the more suggestions you will receive yourself. Inactive profiles are sorted out by eharmony.
---
eharmony Experiences Ireland
We have worked our way through many eharmony members' testimonials and summarised the positive as well as negative opinions of users.
Experiences pro eharmony
eharmony is THE brand in dating. These arguments clearly speak for the provider:
An overwhelming number of eharmony singles have been able to find a life partner at eharmony over the past 20 years.
The majority of users find it positive that the eharmony contact suggestions are pre-sorted.
eharmony members like the fact that there are hardly any fakes or inactive profiles on eharmony.
The eharmony website makes a professional impression and is clear and easy to use.
Registration, Compatibility Quiz and establishing contact are easy for most member.
The majority of the platform's users are sophisticated singles looking for a lasting partnership.
eharmony is an absolutely reputable dating site.
eharmony has an excellent price-performance ratio.
Finding a partner with eharmony is fun!
Experiences con eharmony
Even eharmony is not perfect. These arguments strike a negative note:
Unfortunately, over half of the members do not fall in love on eharmony. Whether this is the fault of the dating site remains to be seen.
eharmony memberships are automatically renewed. Therefore, it is best to cancel immediately after signing up!
Although the eharmony costs are not high, they are not affordable for everyone.
On the subject of photos: Many eharmony customers find it a pity that photos are not activated from the start.
Conclusion experiences eharmony
eharmony has definitely passed our endurance test. For many singles, the dating provider is certainly a good choice.
Nevertheless, one should not forget that dating is a highly personal and emotional thing. That's why we recommend our readers: Sign up with several providers and also let your gut decide.
Because where you feel really good, you will have the greatest chances of finding your soulmate!
---
What's Free at eharmony.co.uk?
Create a profile
Personality test
Search on your own (limited)
Receive suggestions
View photos (limited)
Send a "hello"
Send mails
Read mails (limited)
---
eharmony.co.uk Costs & Prices 2023
The following prices are available at eharmony:
Duration
Cost per month
In total
6 months
Premium light
€

33.80

€ 202.80
12 months
Premium plus
€

27.00

€ 324.00
14 months
Premium extra
€

20.25

€ 486.00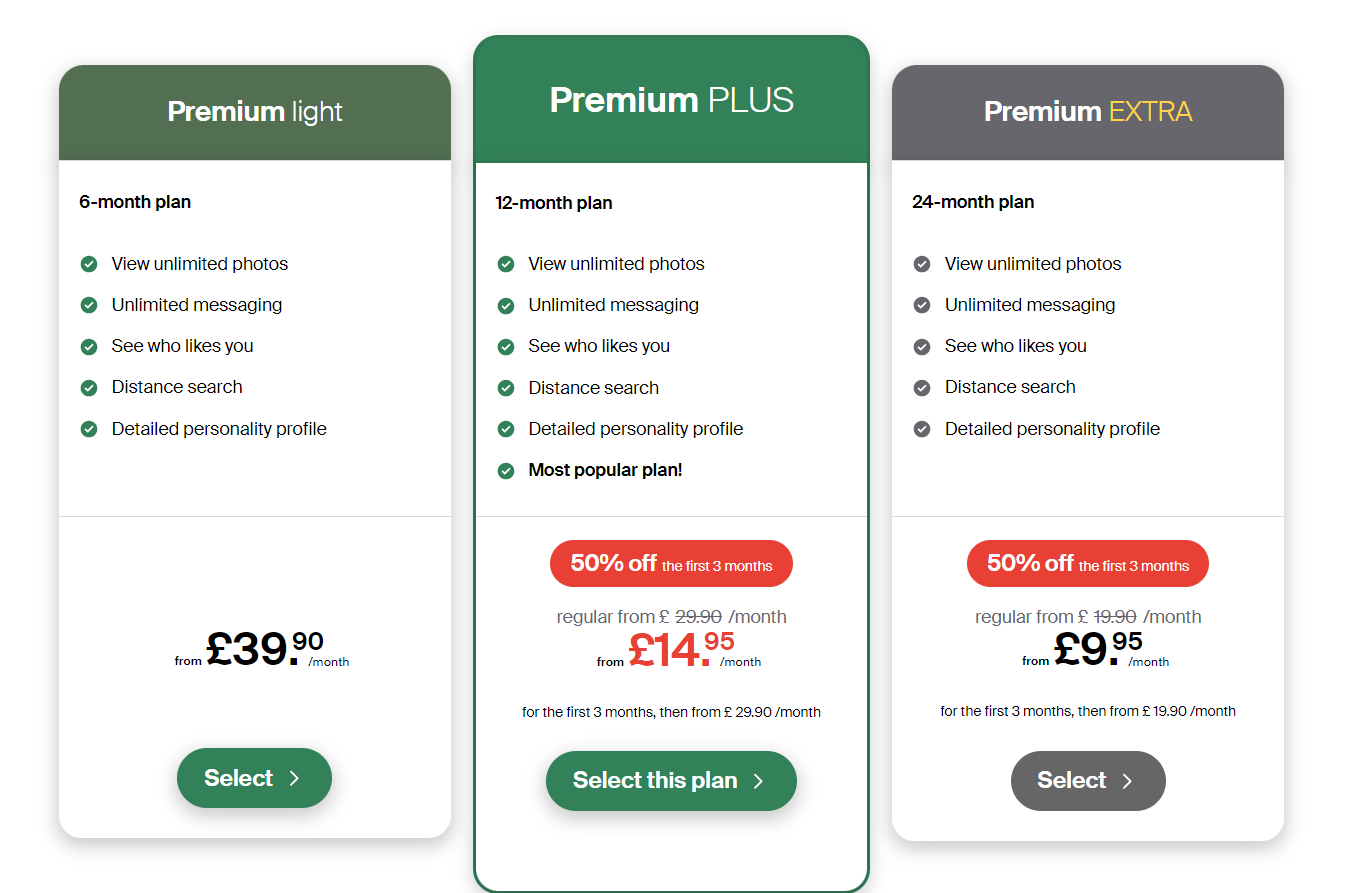 Look out for special offers!
Depending on the season or region, there are great discounts. We were granted a welcome discount of 50% on the Premium plus and Premium extra tariff for the first 3 months directly upon registration. A good deal, in our opinion!
---
eharmony.co.uk Alternatives
---
eharmony Ireland Test Result
To start with: eharmony, the big top dog of the dating industry, really did not have an easy time in our test. We are well aware that the press and TV treat such a large and important advertiser with benevolence and tend to shower it with praise rather than criticism. Overwhelming applause from this corner has therefore not influenced us significantly in this test review. We have scrutinised eharmony very closely and with a large portion of scepticism..
The following data sheet summarises the most important facts about the provider:
eharmony Facts and figures 2023
Active members
60,000
Male to female ratio
51 : 49
Average age
40
Membership level
quite high
Intention
life partner search
Chances for success
good
Starting price
EUR 20.25
Address
eharmony, Inc., P.O. Box 241810, Los Angeles, CA 90024 USA
E-mail
support@eharmony.com
The result of our research: eharmony is still number 1 on the dating market. But other dating sites, especially those that cater to a specific age group like Singles50.ie, 40sDating.ie, and 30sDating.ie, are dangerously close on eharmony's heels.
eharmony.co.uk is still at the top of the list of Irish singles sites, but the competition is not sleeping...
---
| | |
| --- | --- |
| | Petra Frömsdorf |
---